Kresge Co. 
103 So. 3rd Street, Ironton, OH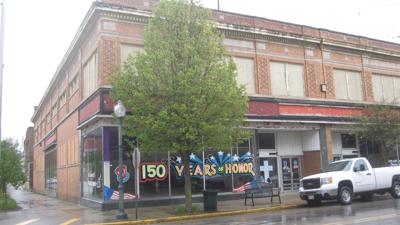 HERE is a link to the Herald-Dispatch page about a reunion of the Ironton Kresge employees on March 23, 2018. 
     The S. S. Kresge Company was started by Sebastion Spering Kresge in Detroit, Michigan in 1900. Kresge's stores were five and dime stores where everything cost 5¢ or 10¢. In fact, Kresge was a pioneer in this type of store.
In 1925, Sebastion Kresge opened a store at the corner of 3rd and Center Streets in Ironton, Ohio. The store was officially named the S. S. Kresge Company, but most locals called it Kresge's or the "Dime Store." Lowell G. Modlin was the first manager. The store's actual address was 101-103 South 3rd Street in Ironton. By the time the store opened in Ironton, Sebastion had expanded the selection available in his store. The new Ironton store was a 5¢, 10¢, and 25¢ store.
By 1930, Laverne E. Tappan had become the store's manager. The store's address was listed as 105-107 South 3rd Street in Ironton. At that time the store sold items for 25¢ and $1.00.
In 1935, the Kresge store had split into two separate stores. The first store was located at 101 South 3rd Street (Ironton).  Vier P. Clary managed this store. It offered items for 5¢ and 10¢. The second store was located at 105 South 3rd Street (Ironton) with Russell H. Seasgo as manager. This store sold items for 25¢ and $1.00.
In 1937, Shafer O. Dieckmann took over Russell H. Seasgo position at the 25¢ and $1.00 store. Deickmann would keep this position until 1940.
In 1941, Deickmann was replaced by Clifford R. Williamson.
In 1943, the store changed its name to S. S. Kresge Variety Store. R. H. Fettus became the manager at 103 South 3rd Street and Emil Lowe managed the store at 105 South 3rd Street.
In the 1947 Ironton City Directory, R. H. Fetters, not Fettus, is listed at the manager of 103 South 3rd Street.
In 1952, the store is listed as S. S. Kresge Company again. The two stores at 103 and 105 South 3rd Street were combined into one store. J. S. Babier was the manager of combined store. Kresge Company is listed as a department store selling items from 5¢ to $1.00.
By 1956, the store had only one address, 103 South 3rd Street. J. S. Babier remained manager.
In 1957, John F. Holfinger replaced Babier as manager. He would responsible for selling items for 25¢ to $1.00. He would be the store's manager for ten years until 1967.
For the next thirty years, Kresge Company would change managers often. In 1967, Marion J. Talley became the manager of the store. Instead of being a department store, Kresge Company was called a variety store. By 1968, Sam W. Taylor had replaced Talley as manager. Taylor held the job for two years before being replaced by Ray S. Gunter in 1970. In 1971, Jack Rohling became manager. By the next year, Gale E. Bake had taken over the management of the store. He held the job for two years before he too was replaced by Robert Davis in 1974. Davis was replaced by Frank Hathaway in 1975. Hathaway held the job until 1977. The trend continued when Robert Roach, Robert Clark, Gary J. Sodamon, James E. Ellis and David R. Lafferty managed the store. The managers rarely stayed longer than two years.
In 1987, the store was sold. It became McCrory's Variety Store, although many local people continued to call the store Kresge's.
S. S. Kresge, the founder of the company that would become Kmart, met variety store pioneer Frank Winfield Woolworth while working as a traveling salesman and selling to all 19 of Woolworth's stores at the time. In 1897 Kresge invested $6,700 saved from his job into a five and dime store in Memphis, jointly owned with his former tinware customer, John McCrory. They added a second store in downtown Detroit the following year. These were the first S.S. Kresge stores. After two years of partnership, he traded McCrory his share in the Memphis store, plus $3,000, for full ownership of the Detroit store, and formed the Kresge & Wilson Company with his brother-in-law, Charles J. Wilson.
In 1912, Kresge incorporated the S.S. Kresge Company in Delaware with eighty-five stores. In 1916, Kresge incorporated a new S.S. Kresge Company in Michigan and took over the operations of the original company; the new company in Michigan is the modern day Kmart company. The company was first listed on the New York Stock Exchange on May 23, 1918. During World War I, Kresge experimented with raising the limit on prices in his stores to $1. By 1924, Kresge was worth approximately $375 million and owned real estate of the approximate value of $100 million.Growth early in the 20th Century remained brisk, with 257 stores in 1924, rising to 597 stores by 1929. Kresge retired as president in 1925. The Great Depression reduced profitability and resulted in store closings, with the number reduced to 682 in 1940. After the war, shopping patterns changed and many customers moved out of the cities into the suburbs. The Kresge Company followed them and closed and merged many urban stores; by 1954, the total number of stores in the US had declined to 616.
Under the leadership of executive Harry Cunningham, S.S. Kresge Company opened the first Kmart named store on March 1, 1962, in Garden City, Michigan,[16] just four months before the first Walmart opened. This store is no longer in operation as of March 2017. Eighteen Kmart stores opened that year. Kmart Foods, a now-defunct chain of Kmart supermarkets, opened in that decade. Though the store chain continued to open Kmart branded stores, the store chain was still officially called S.S. Kresge Company.
Company founder Kresge died on October 18, 1966.
Around the time of the opening of the first Kmart, some poorly performing S.S. Kresge stores were converted to a new "Jupiter Discount Stores" brand, which was conceived as a bare-bones, deep discount outfit. During the 1970s, Kmart put a number of competing retailers out of business. Kresge, Jupiter and Kmart stores mainly competed with other store chains like Zayre, Ames, Bradlees, Hills, and those that were operated by MMG-McCrory Stores (McCrory, McLellan, H.L. Green, J.J. Newberry, S.H. Kress, TG&Y, Silver's and eventually G.C. Murphy Co.). In 1977, S.S. Kresge Company changed its name to K Mart Corporation.
The Architecture of the Store
The S. S. Kresge Company Store is one the older buildings in Ironton. The building was built in 1924. The architectural style shows some influence from the Neo-classical period. The two story building has a brick foundation and walls. The roof is a flat and made of composition. The storefront contains polished granite and plate glass. The second floor on the 3rd Street side has windows separated by decorated pilasters.
________________________________________
LEDC purchases site of former Kresge building for redevelopment
By DAVID E. MALLOY HD Media
IRONTON — The Lawrence Economic Development Corp. has paid $210,000 for two parcels in downtown Ironton that includes the former S.S. Kresge Company store in an effort to help revitalize the downtown.
"We want to try to help get more businesses downtown and fill some of the empty storefronts," said Bill Dingus, the development corporation's executive director. "We believe there is some potential there. We feel Ironton is on the rebound. Ironton has been coming back."
"We believe there are people willing to partner to make downtown Ironton better," Dingus said. "I think it has a great future."
The building is located on the corner of South 3rd and Center streets. Kresge opened in 1925 and became a McCrory's Variety Store in the late 1980s before that store was closed. The building currently is vacant.
"I was excited to see this," said Mayor Katrina Keith. "That building has a lot of history. We're looking at getting some tenants there."
Several other parties are interested in buying and getting other businesses in downtown Ironton, Keith said.
"We have some people looking for investment opportunities," said Ralph Kline, assistant executive director of the Ironton-Lawrence County Area Community Action Organization. Some could be interested in housing opportunities, he said.
"We have some folks interest in this," Keith said. "We are looking at doing this one building at a time. This is a very good first step."